The summer transfer window for the Saudi Pro League stayed open longer than that of the Premier League and most other European competitions. But now it's shut, let's take a look at the players who've decided to ply their trade in Saudi Arabia (often in the face of sportswashing allegations).
Clubs in the Saudi Pro League have certainly been splashing the cash over the summer and they spent a tidy sum of £784.2 million on players. While that figure is massive, it still falls significantly short of the £2.36 billion spent on players by Premier League clubs during the summer window. Still, the Saudi clubs' spending muscles have been flexed and there are one or two nervous clubs and leagues in Europe and beyond. But let's leave the future of football for another day and run through the top players to have moved to the Saudi Pro League over the summer.
Players Joining the Saudi Pro League
Here we'll summarise the most significant signings by Saudi Pro League (SPL) clubs over the summer. Although some are big-money moves, others are potentially rather shrewd free transfers. Note the fees given are those reported but they may not always be 100% accurate and some will rely on adds-ons and extras, so take the figures as approximate.
Player
From
To
Fee (Approx.)
Neymar
PSG
Al-Hilal
€90.00m
Otávio
Porto
Al-Nassr
€60.00m
Malcom
Zenit
Al-Hilal
€60.00m
Rúben Neves
Wolves
Al-Hilal
€55.00m
Aleksandar Mitrovic
Fulham
Al-Hilal
€52.60m
Fabinho
Liverpool
Al-Ittihad
€46.70m
Sergej Milinkovic-Savic
Lazio
Al-Hilal
€40.00m
Gabri Veiga
Celta Vigo
Al-Ahli
€40.00m
Riyad Mahrez
Man City
Al-Ahli
€35.00m
Roger Ibañez
Roma
Al-Ahli
€30.00m
Sadio Mané
Bayern Munich
Al-Nassr
€30.00m
Jota
Celtic
Al-Ittihad
€29.10m
Aymeric Laporte
Manchester City
Al-Nassr
€27.50m
Allan Saint-Maximin
Newcastle
Al-Ahli
€27.20m
Seko Fofana
Lens
Al-Nassr
€25.00m
Kalidou Koulibaly
Chelsea
Al-Hilal
€23.00m
Luiz Felipe
Real Betis
Al-Ittihad
€22.00m
Bono
Sevilla
Al-Hilal
€21.00m
Merih Demiral
Atalanta
Al-Ahli
€20.00m
Edouard Mendy
Chelsea
Al-Ahli
€18.50m
Marcelo Brozovic
Inter
Al-Nassr
€18.00m
Habib Diallo
Strasbourg
Al-Shabab
€18.00m
Yannick Carrasco
Atlético Madrid
Al-Shabab
€15.00m
Jordan Henderson
Liverpool
Al-Ettifaq
€14.00m
Demarai Gray
Everton
Al-Ettifaq
€9.30m
Georginio Wijnaldum
PSG
Al-Ettifaq
€8.00m
Jack Hendry
Club Brugge
Al-Ettifaq
€5.00m
Moussa Dembélé
Lyon
Al-Ettifaq
Free
N'Golo Kanté
Chelsea
Al-Ittihad
Free
Karim Benzema
Real Madrid
Al-Ittihad
Free
As you can from the table above, the biggest transfers were undertaken by just a handful of Saudi clubs: Al-Hilal, Al-Nassr, Al-Ittihad and Al-Ahli. It is no coincidence that these four clubs have recently been acquired by the Saudi Arabia Public Investment Fund, and to say their pockets are deep is something of an understatement. The PIF is estimated to be worth £520bn, so what's a few hundred million?
But other clubs, such as Al-Shabab and Al-Ettifaq have also been splashing decent amounts of cash too. Even so, though, many Saudi clubs have been left scrabbling for scraps and have relied on free transfers or loan deals.
Biggest Transfers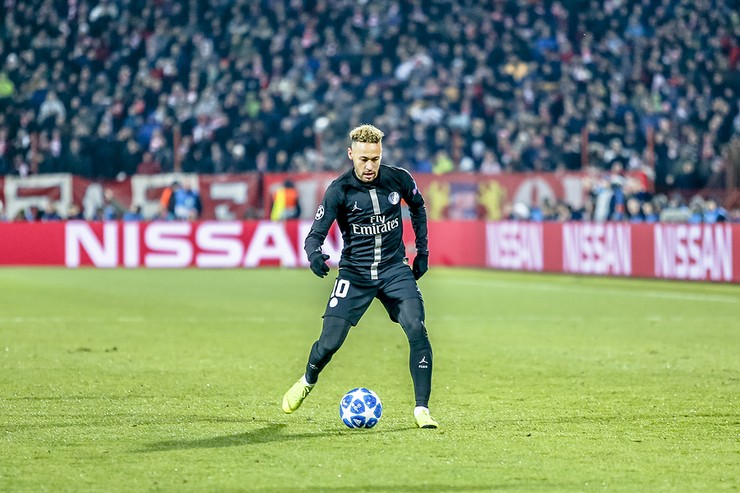 Image: ugljevarevic, Bigstock Photo
Let's take a closer look at the transfer to the Saudi Pro League that commanded the biggest fees over the summer. And where better to start than with a player who has been sold for a combined total of €400 million (more than anyone else) over the course of his career?
Neymar
Transfer Fee – €90m
Club Joined – Al-Hilal
Bought From – Paris Saint-Germain
Arguably one of the best players of his generation, there is sometimes a nagging doubt about whether Naymar has ever truly lived up to the hype that surrounded his early career. Okay, he's won plenty of silverware at each of his previous three clubs (PSG, Barcelona and Santos), but he has never won the World Cup or the Copa America with Brazil. Having said that, he is his country's top scorer (with 79 goals in 125 games at the time of writing), having surpassed the great Pele's previous record of 77 goals (in just 92 games!).
Having played for two of the biggest clubs in Europe, Neymar has decided to give the Saudi Pro League a whirl. We wonder what convinced him, the challenge of helping to establish a new force in world football? The cultural experience? Or perhaps the reported annual salary of around $100m. We'll leave you to decide.
Otávio
Transfer Fee – €60.00m
Club Joined – Al-Nassr
Bought From – Porto
The joint-second-highest fee paid by a Saudi club in the summer was the €60.00m Al-Nassr splashed out on Porto winger Otávio. Although he doesn't have the same star status as Neymar (or indeed many others who were signed for less cash), Otávio was the Primeira Liga's Player of the Season in 2022/23 and at 28 years of age, is significantly younger than many of the big-name players signed by Saudi Clubs.
Malcom
Transfer Fee – €60.00m
Club Joined – Al-Hilal
Bought From – Zenit Saint Petersburg
Malcom decided to leave a club playing within a questionable regime (to say the least) to play for a club in… well, in the Saudi Pro League (we hear they have good lawyers). Although not the most competitive league in the world, especially in recent times, Malcom ended the 2022/23 season as the Russian Premier League's top scorer having notched 23 goals. He's 26 years old so perhaps his best years are ahead of him and, if so, he could prove a decent buy, even at what is a highly inflated price.
Rúben Neves
Transfer Fee – €55.00m
Club Joined – Al-Hilal
Bought From – Wolverhampton Wanderers
A player with whom fans of Premier League football will be familiar, Rúben Neves has spent most of his career to date at Wolves. He joined them at the beginning of the 2017/18 season and helped them gain promotion to the Premier League and then helped them thrive in the top flight with three top-half finishes in five seasons.
As a technically gifted defensive midfielder, Neves chips in with the odd goal or two, but his astute reading of the game and ability to turn defence into attack has won him plenty of admirers. Not all those admirers were willing to spend more than €50m on him though.
Aleksandar Mitrovic
Transfer Fee – €52.60m
Club Joined – Al-Hilal
Bought From – Fulham
Serbian striker Aleksandar Mitrovic spearheaded Fulham's attack since moving there from Newcastle in 2018. He was the club's top scorer in four of the last five seasons, including his amazing haul of 43 goals in 44 league games that saw Fulham top the Championship in 2021/22.
He's never quite hit the same scoring heights when in the Premier League as he did in the Championship, so perhaps playing in the SPL (which, let's face it, is a rung or two below the EPL in terms of standard) could suit him. He certainly got off to a decent start in Saudi Arabia, scoring four goals in his first three games for his new club.
Fabinho
Transfer Fee – €46.70m
Club Joined – Al-Ittihad
Bought From – Liverpool
Former Liverpool and Monaco defensive midfielder Fabinho is the only other player to have cost a Saudi club more than €45m, this summer. There is little doubt he is a brilliant player and many were surprised he chose to move to the Saudi Pro League (until they saw his reported pay packet of around £36m per season!). There are several other Brazilians on the books at Al-Ittihad, as well as Brazil-born Italian international Luiz Felipe (who cost €22m this summer), so Fabinho could well settle in nicely. He certainly won't have a problem affording meat for the BBQs the Brazilian contingent are likely to enjoy.
Other Notable Transfers
As well as the biggest-money moves mentioned above, there are plenty of big-name players who moved to Saudi Arabia for less princely sums.
Man City sold Riyad Mahrez to Al-Ahli for €35.00m and Aymeric Laporte to Al-Nassr for €27.50m, and both are top-quality players. Former Liverpool and Southampton man Sadio Mané left Bayern Munich for Al-Nassr for €30m, and Jota joined Al-Ittihad from Celtic for just shy of that figure.
Dear Cityzens,
Today marks the end of an unforgettable chapter in my life, a five-year journey filled with countless memories. Before leaving, I wanted to thank the board, the manager and the staff for giving me the chance to prove myself at the highest level.
To my teammates,… pic.twitter.com/81mVXGoKrH
— Riyad Mahrez (@Mahrez22) July 28, 2023
One of the most significant signings, at least from the point of view of England fans, was Jordan Henderson's €14.00m transfer from Liverpool to Al-Ettifaq. Henderson has received some stick on social media in some quarters, but the chance to link up with former teammate Steven Gerrard (who manages his new club) was clearly a big draw… as was the cash, but let's not mention that! Or the fact that the move seems to look rather hypocritical after Henderson's previous support for the LGBTQ community.
Thank you for the warm welcome! I'm ready. Let's go @Ettifaq 🟢🔴 pic.twitter.com/WbGGHmJeaD
— Jordan Henderson (@JHenderson) August 6, 2023
Meanwhile, Al-Ittihad did some great business by picking up both N'Golo Kanté and Karim Benzema on free transfers (from Chelsea and Real Madrid respectively). Al-Ettifaq also landed a decent player on a free in the form of former Lyon and Celtic player Moussa Dembélé. Whether all of these great players will be able to help form a league that anyone really cares about remains to be seen. However, there will be plenty more spending still to come in the windows ahead.