For any player born in England, and indeed for many around the world, playing in the Premier League (PL) is their ultimate dream. Lots of young footballers would probably give their left arm (goalkeepers aside) for just one appearance in the top flight of English football. However, the players that follow in this article have achieved just a little bit more than that. Let's take a look at the PL legends who are members of an elite group, the 500 Club – players with more than 500 appearances in the current version of the top flight.
It should go without saying that the stats that are correct at the time of writing, which is to the the end of the 2021/22 season, although as it happens there is only one player on this list who is currently active. Moreover, there are not any players who are likely to be new additions anytime in the immediate future. Whether this is a coincidence, some sort of cyclical effect, or reflects the faster pace, both on and off the pitch, of the Premier League right now, we aren't sure.
Anyway, to the details of the players on the list in full. Note that the stats are taken from the official Premier League website.
Gareth Barry – 653
Club
Appearances
From
To
Aston Villa
365
1997/98
2008/09
Manchester City
132
2009/10
2013/14
Everton
131
2013/14
2017/18
West Brom
25
2017/18
2020/21
Total
653
1997/98
2020/21

Image: Photo Works, Bigstock Photo
Gareth Barry has made more Premier League appearances than any other player with a massive 653. Most of those came with Aston Villa, where he played from 1997/98 until moving to Man City in 2009. He had a good spell with Everton before ending his career in 2021 at West Brom.
The versatile midfielder began as a left back or wing back before settling into his role as a holding player in the centre. Capped 53 times by England he scored three goals for the Three Lions and won the PL with City in 2011/12, as well as the FA Cup the season before that. Among the stats he may be less proud of are a record 123 yellow cards and an impressive six reds. Let's end on a positive though, Barry did score a very decent 53 Premier League goals in his long career.
Ryan Giggs – 632
Club
Appearances
From
To
Manchester United
632
1992/93
2014/14
Total
632
1992/93
2014/14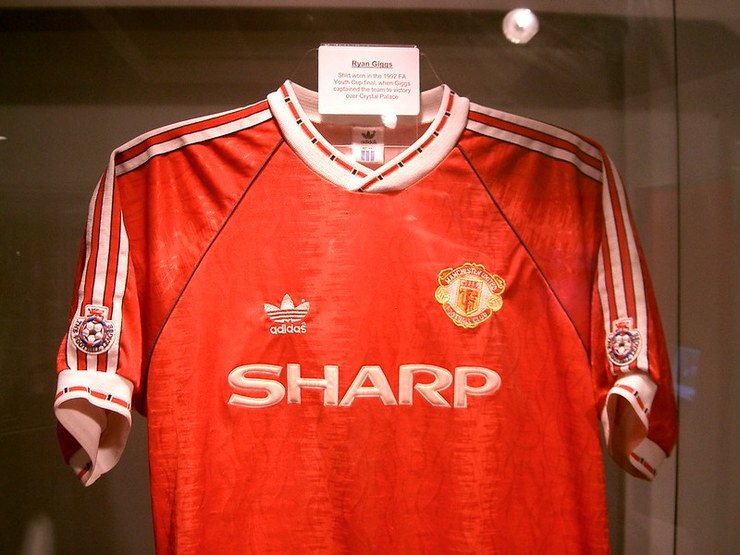 Image: edwin.11, flickr
Whatever doubts there are about Ryan Giggs behaviour off the pitch, there is no doubting his brilliance on it. Giggs was probably the first Premier League pin-up and teen star and made his debut for Man United just before the dawn of the Premier League. A one-club man (if not a one-woman one), Giggs's electric pace and close control, jinking hips and swerving shoulders made him a nightmare to defend against.
The first player ever to win back-to-back PFA Young Player awards (in 1992 and 1993), Giggs also won the main award in 2009. He holds numerous impressive records, including the most PL assists, on 162 he is miles clear of Cesc Fabregas in second with 111, being the only player to have scored in the first 21 seasons of the PL and also the only one to play in the first 22 seasons.
Giggs's youth career may have briefly involved Man City but from 1987 until 1990 he was part of the youth set-up at the Red Devils, becoming a senior player in 1990 and going on until 2014. A further two years in an assistant management role mean he was with Man United for a scarcely believable 30 years.
Frank Lampard – 609
Club
Appearances
From
To
West Ham
148
1993/94
2000/01
Chelsea
429
2001/02
2013/14
Manchester City
32
2014/15
2014/15
Total
609
1993/94
2014/15

Image: sportsphotographer.eu, Bigstock Photo
Regarded by many as another one-club man, "Lamps" completes our trio of players to have made more than 600 Premier League appearances. Younger fans may be unaware he started life at West Ham, making his first appearances during the 1995/96 campaign, whilst older, or simply more forgetful supporters may have forgotten he finished his career, in England at least, with a season at Man City.
Lampard played 32 times for City in 2014/15, managing a respectable six gals before moving to the US for a season. Now the manager of Everton, like the two men above him on this list, there are many remarkable stats about his career. He is among a small group of men to boast over 100 assists and goals in the PL, sitting fourth in terms of the former with 102 and sixth with regards to the latter (177).
That he achieved that from midfield is even more remarkable and some of his numbers in that regard are scary. Lampard notched 16 league goals in 2005/06, 22 in 2009/10 and 15 in 2012/13. From midfield! He also managed 29 goals for England, playing for his country 106 times and winning 11 major trophies with Chelsea, including two in Europe.
James Milner – 588
Club
Appearances
From
To
Leeds
48
2001/02
2003/04
Newcastle
94
2004/05
2008/09
Aston Villa (Loan)
27
2005/06
2005/06
Aston Villa
73
2008/09
2010/11
Manchester City
147
2010/11
2014/15
Liverpool
199
2015/16
Present
Total
588
2001/02
Present

Image: sportsphotographer.eu, Bigstock Photo
James Milner is the only player on our list of 500+ PL appearances who looks set to add to his current tally. The Leeds-born midfielder has been around the block in the best possible sense, racking up the Premier League outings at a host of the biggest and best-supported clubs in the land.
He started out at hometown club Leeds where even at the tender age of 16 he was breaking records. On his debut against West Ham he became the second youngest PL player ever and a month later, in December 2002 (yes, around 20 years ago), he scored against Sunderland to become the youngest player to ever score in the Premier League. Aged just 16 years and 356 days, he beat Wayne Rooney's record, set the same season, by just four days, but saw himself usurped by another Toffee, James Vaughan, a few years later.
Milner's reputation for being steady, consistent and reliable (check out the Boring James Milner Twitter parody account) does a disservice to his ability; his 61 England caps, silverware with four clubs, including three league titles, two FA Cups, two League Cups and a Champions League, do not. Still super-fit, Milner signed a one-year contract extension keeping him at Liverpool until at least the end of the 2022/23 season.
David James – 572
Club
Appearances
From
To
Liverpool
214
1992/93
1998/99
Aston Villa
67
1999/00
2000/01
West Ham
64
2001/02
2002/03
Manchester City
93
2003/04
2005/06
Portsmouth
134
2006/07
2009/10
Total
72
1992/93
2009/10

Image: Glenn Merrett, flickr
Perhaps surprisingly James is the first goalkeeper on our list and like Giggs his career pre-dates the Premier League era. Starting out at Watford he moved to Liverpool in time for the inaugural PL season in 1992. He played around 1,000 games all told with most of his PL career coming at Liverpool, although he also appeared more than 100 times for Pompey and almost hit triple figures with the Hammers and City too.
A commanding physical presence and impressive shot-stopper, errors earned him the somewhat harsh nickname "Calamity James". That didn't stop him playing 53 times for his country, including at the 2010 World Cup when, aged just shy of his 40th birthday, he became the oldest tournament debutant. He also won the League Cup with the Reds and the FA Cup with Portsmouth.
Gary Speed – 535
Club
Appearances
From
To
Leeds
143
1992/93
1995/96
Everton
58
1996/97
1997/98
Newcastle
213
1997/98
2003/04
Bolton
121
2004/05
2007/08
Total
535
1992/93
2007/08
Gary Speed tragically took his own life in November 2011 but fans of all his clubs will remember him fondly. The Welsh midfielder was known as a humble, modest and hardworking pro and the tributes that came in following his death were moving and genuine.
To focus on Speed's life is to remember a footballer who scored lots of goals, was a fine striker of the ball, superb in the air and brilliant at timing his runs into the box. He played for Leeds from 1988 to 1996 and was part of their famous four-man midfield (alongside Gordon Strachan, Gary McCallister and David Batty) that won the last edition of the old First Division, before the Premier League began.
Speed had also won the old Second Division with Leeds and was named in the PFA Team of the Year in 1992/92 when he scored seven league goals for his team. He chipped in with a decent number of goals wherever he played, including seven for Wales. He represented his nation 85 times and went on to manage them, with many players crediting Speed for starting the process that led to the Dragons regularly qualifying for major tournaments.
Emile Heskey – 516
Club
Appearances
From
To
Leicester
124
1994/95
1999/00
Liverpool
150
1999/00
2003/04
Birmingham
68
2004/05
2005/06
Wigan
82
2006/07
2008/09
Aston Villa
92
2008/09
2011/12
Total
516
1994/95
2011/12
Emile William Ivanhoe Heskey, to use his full name, was not the most prolific striker and was often maligned by fans but was one of those players who was greatly appreciated by his teammates and managers. His 62 England caps are testament to that, though critics may wonder how a striker who scored just seven goals in those games kept getting picked.
He scored 110 Premier League goals and added a further 53 assists but was the sort of striker who occupied defences and made room for others. His most prolific season in front of goal came in 2000/01 when he notched 14 in 36 Premier League games for Liverpool, the side to whom he moved in a big-money deal from his hometown club of Leicester. He has been the Head of Development for Leicester's women's team since 2021 having retired from playing in 2016.
Mark Schwarzer – 514
Club
Appearances
From
To
Middlesbrough
332
1996/97
2007/08
Fulham
172
2008/09
2012/13
Chelsea
4
2013/14
2014/15
Leicester
6
2014/15
2016/17
Total
514
1996/97
2016/17
The first non-Brit and second goalkeeper on our list, Aussie Mark Schwarzer kept 151 clean sheets in the Premier League. A commanding presence in goals he came to England from German football, playing a few games for Bradford before Boro snapped him up. He spent more than half of his career in the North East and made almost 200 appearances for Fulham before ending his career as a backup goalkeeper.
His first Premier League appearance came in the 1996/97 season, whilst his last was in 2014/15, though he remained on Leicester's books for their incredible title-winning campaign in 2015/16. He was ineligible for a medal, not having made the requisite five appearances but still became the first player to be part of title-winning squads in back-to-back seasons at different clubs since Eric Cantona (with Leeds and Manchester United). He made 109 appearances for Australia, making him their most-capped international, one ahead of Tim Cahill.
Jamie Carragher – 508
Club
Appearances
From
To
Liverpool
508
1994/95
2012/13
Total
508
1994/95
2012/13

Image: Danny Molyneux, flickr
Despite being a childhood Everton fan, Carragher is pretty close to being Mr Liverpool, being a one-club man who played all 508 of his top-flight games for the Reds. Including his youth career, the Bootle boy was with the club from 1988 to 2013 and with a total of 737 appearances for the Merseysiders, he is second in terms of games played for Liverpool.
Carra made 38 appearances for England without ever really holding down a place, though he was a stalwart for his club. He only managed three PL goals in his long career with the Reds but as an old-fashioned defender he was up there with the best. Brave, reliable, strong and a leader, he was a key part of much of the success Liverpool enjoyed in the late 1990s and the start of the 21st century. He made 20 or more league appearances in every season from 1997/98 to 2012/13 before retiring at the end of that last campaign.
Phil Neville – 505
Club
Appearances
From
To
Manchester United
263
1994/95
2004/05
Everton
242
2005/06
2012/13
Total
505
1994/95
2012/13

Image: Fabio Venni, flickr
Neville was part of Man United's academy and one of "Fergie's Fledglings" who so famously proved that you definitely can win things with kids. A versatile defender who was comfortable on either flank, Neville was a hugely talented cricketer as a child, with many saying he could have made the professional ranks. Indeed, he played alongside Andrew Flintoff for Lancashire's under-19 side.
Part of a very sporting family alongside brother Gary and twin sister Tracey, a former England international at netball, his late father, the inventively named Neville Neville worked for Bury FC, as did his mother. Phil played two league games in 1994/95 but was a fixture for the Red Devils for the next decade before moving to Everton.
He made almost as many appearances for the Toffees as he did for United and was instrumental in raising the standards at the club under David Moyes. A leader on and off the pitch, Neville played for England between 1996 and 2007, receiving 59 caps. Neville is one of a number of former United stars to co-own Salford City and is currently working as manager of David Beckham's MLS side Inter Miami.
Rio Ferdinand – 504
Club
Appearances
From
To
West Ham
127
1995/96
2000/01
Leeds
54
2000/01
2001/02
Manchester United
312
2002/03
2013/14
QPR
11
2014/15
2014/15
Total
504
1995/96
2014/15

Image: vverve, Bigstock Photo
Rio was a stylish, ball-playing centre back who would have really thrived in any era of football. Fast, strong, comfortable on the ball and a brilliant reader of the game, his West Ham links made a Bobby Moore comparison inevitable. He might not have been quite that good but he wasn't far off. He made 81 England appearances, moved to Leeds United for a then-British record £18m (also then the world record fee for a defender) and following a stellar showing at the 2002 World Cup then signed for Man United for around £30m. That again made him the most expensive British player and costliest defender in the world, a real indication of the regard Ferdinand's ability was held in.
He appeared for England in 15 consecutive seasons from 1997 to 2011 and was in the PFA Team of the Year on six occasions, as well making the FIFPro World XI in 2007/08. He won pretty much everything there was to win with United, including six league titles, two League Cups and a Champions League, though he never managed to win the FA Cup during his career.
Steven Gerrard – 504
Club
Appearances
From
To
Liverpool
504
1998/99
2014/15
Total
504
1998/99
2014/15

Image: coward_lion Bigstock Photo
Gerrard is one of the few Liverpool legends who actually supported the Reds as a boy, with Robbie Fowler, Michael Owen, Steve McManaman and Ian Rush, like Carragher, growing up as Blues. So, for that, we give him, and not his long-time colleague Carra, the true tag of Mr Liverpool. He turned down many lucrative offers to leave the club he loves and ones where he would almost certainly have won more silverware, or at least a league title.
Gerrard won virtually everything with the Reds but the Premier League eluded him, never more cruelly than when his slip against Chelsea cost them the championship in 2014. His impact at the club and loyalty, however, men he will go down as one of the all-time greats. His numbers speak for themselves: 504 PL appearances brought 120 goals and 92 assists, largely from midfield, occasionally in an advanced role but sometimes as a full back or wing back. He had 114 caps and 21 goals for England, even though he often had to play out of position.
But more than the numbers alone, what really makes Gerrard's career stand out is when he scored goals and how he lifted his team. Sometimes it seemed that through sheer force of will he dragged Liverpool to victories. His stunning strike in the last minute of the FA Cup final against West Ham to force extra time, his late strike against Olympiakos that kept them in the Champions League in 2004 when they went on to lift the trophy, his header that same season against Milan in the CL final that sparked an insane second-half comeback from 3-0 down, we could go on.
Sol Campbell – 503
Club
Appearances
From
To
Tottenham
255
1992/93
2000/01
Arsenal
135
2001/02
2005/06
Portsmouth
95
2006/07
2008/09
Arsenal
11
2009/10
2009/10
Newcastle
7
2010/11
2010/11
Total
503
1992/93
2010/11

Image: Steenbergs, flickr
The last member of the 500 Club is another who played largely in what was supposedly England's golden generation in the period of 10 or 15 years after Euro 96. Sadly for England the likes of Sol Campbell (real name Sulzeer), Rio Ferdinand, Frank Lampard, Steven Gerrard and others couldn't quite make it work on the international stage. However, Campbell, like most players on this lift, had plenty of success at club level.
He made one appearance for Spurs in the 1992/93 campaign but quickly established himself as a regular, playing 34 times the following season. He had been at Spurs as a youth since 1989 but then in 2001 came a shock move to bitter rivals Arsenal. The response from many Tottenham fans was vitriolic but the move paid off for Campbell, who had wanted to play Champions League football.
He had won just a solitary League Cup with Spurs but added two PL titles and three FA Cups with Arsenal, winning the latter again with Portsmouth. Campbell was an excellent all-round defender and better with the ball than some give him credit for. He was a supreme athlete though, with a combination of strength and speed similar to Virgil van Dijk. He won 73 England caps and finished his PL career with a season at Newcastle in 2010/11.
Nearly Men: Players with almost 500 PL appearances
As well as the elite group above, who we fancy would make a pretty good team, albeit one with two keepers, there are some players to whom we simply have to give an honourable mention. They came very close to hitting the magical 500 milestone but didn't quite get there.
Paul Scholes: 499 appearances for Man United from 1994/95 to 212/13. Scholes scored 107 goals and provided 55 assists, winning the PL 11 times
Jermain Defoe: 496 appearances West Ham, Spurs, Portsmouth, Sunderland and Bournemouth 2000/01 to 2018/19. Defoe registered 162 goals and 33 assists and is the first out-and-out striker to feature
John Terry: 492 appearances for Chelsea from 1998/99 to 2016/17. Terry was Chelsea through and through and is another world-class centre back to feature and another who was a supreme leader
Wayne Rooney: 491 appearances for Everton and Man United from 2002/03 to 20017/18. Rooney, or Wazza (no relation to Wagatha) started and ended his career at Everton with 13 glorious seasons at United in between. Player of the season in 2009/10, Rooney is England's all-time leading goalscorer and notched 208 in the EPL (plus 103 assists)