The first foreign player in English football is thought to have been Walter Bowman. He made his bow for Accrington Stanley and those who believe that players from overseas are a modern phenomenon should note that the Canadian with Swiss heritage played his first game in 1892! The first Brazilian to appear in the English system was Mirandinha and this was not until much later. Mirandinha, who played four times for his national team, had two seasons with Newcastle United in the old First Division in 1987/88 and 1988/89.
Since those days, the game of football – and indeed the world – has become far more globally integrated and there are now, in the 2023/24 campaign, more than 30 Brazilian footballers in the Premier League. Since the inception of the Premier League in 1992, around 120 footballers from the game's spiritual home have played in the English top flight.
Whilst some of those have been major flops, the majority have enjoyed very good careers in England. But which have been the very best? This is rather tricky, as there have been lots and lots of very good Brazilians in the Premier League, but few (if any) that have been truly and clearly world class.
What's more, there is also the question of whether we are judging them based on their career as a whole, the impact they had with their Premier League club or what sort of a player they were during their years in England. So, let's get the debate started by taking a look at the five best Brazilian players to strut their stuff in the EPL!
1) Thiago Silva, Chelsea, 113 Brazil caps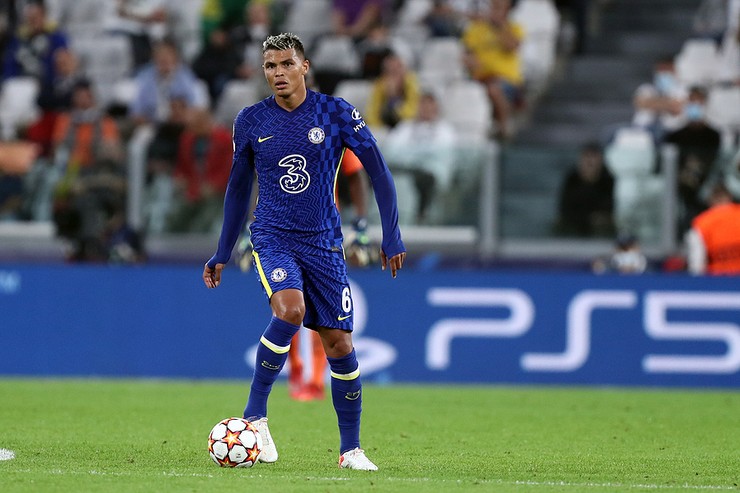 Thiago Silva has made over 100 appearances for Chelsea since signing in 2020. Image: canno73 Bigstock Photo
Thiago Silva may be a surprise choice but in terms of Brazilians in the Premier League we feel he is the closest to being a true icon in his homeland. To back up what we said above about the lack of genuine Brazilian stars appearing in the PL, it is notable that none of the Selecao's top goalscorers has ever played in the English top flight. Robinho's 28 goals for Brazil mean he is top of the pile in that regard and his Premier League career was underwhelming, to say the least.
Silva, of course, did not score goals (though he bagged seven for his nation) but he is fifth in terms of appearances for Brazil. His 113 caps mean that only Cafu, Dani Alves, Neymar and Roberto Carlos have played more times for the five-time world champions and so we think he deserves to be classed as the greatest Brazilian to ever appear in the PL.
He signed for Chelsea in 2020 following successful spells with Milan and PSG and has played for the Blues over 120 times. He has been an inspirational figure at the club during difficult times and his leadership and influence off the pitch have been impressive. He has been the captain of almost every team he has played for, including Brazil and at the age of 39 he is still going strong.
He has won honours in four different countries, with highlights including Serie A with Milan, seven league titles with PSG, and the Champions League with Chelsea. He also helped Brazil win the 2019 Copa America and will go down as one of his nation's greats.
2) Alisson, Liverpool, 61 Brazil caps
Alisson Becker became the world's most expensive goalkeeper when signing for Liverpool in 2018 for £66.8million. Image canno73 Bigstock Photo
Liverpool's goalkeeper Alisson Becker is number two on our list and that may, once again, surprise many. Brazil is a nation known for its football flair and attacking fluency so having a keeper in the top five (spoiler alert: there isn't just one!) may seem controversial. However, unlike many of the Brazilians to have appeared in the Premier League, the man from Novo Hamburgo is undoubtedly a world-class talent.
The debate as to who is the better keeper between him and Man City's Ederson is not easy to settle but from an international perspective, more than one Brazil manager has settled on the Liverpool man. His 61 caps mean he has around twice as many as Ederson and he should add to that tally in the years ahead.
He is a brilliant all-round goalie: commanding in the air, perhaps the best in the word in one-on-one situations, a superb shot-stopper and possessing excellent distribution, he has played a huge role in the success Liverpool have enjoyed under Jurgen Klopp. The Reds' front three may have attracted the bulk of the praise when Liverpool finally won their first PL title but at the other end, Alisson was just as important. He has won every major honour with the club too, including the Champions League, the FA Cup, the League Cup and the Club World Cup.
The 30 year old was named Best FIFA Goalkeeper in 2019 and that same year won countless other words too, including the Yashin Trophy, the IFFHS World's Best Goalkeeper, and the Copa America Golden Glove. He has been named in the team of the year by Serie A, the PFA for the PL and UEFA and twice made the UCL Squad of the Season.
3) Fernandinho, Man City, 53 Brazil caps
Fernandinho (right) won five league titles with Manchester City between 2013/14 and 2021/22. Image: katatonia82, Bigstock Photo
Man City's Fernandinho is one of those players who is very underrated by some fans but is loved by his fellow players and those who manage him. The Citizens signed him from Shakhtar Donetsk for £34m in 2013 and he went on to play 264 PL games for the club. Willian is the only Brazilian to appear in the competition more often (290) and in total Fernandinho played almost 400 times for City.
With five PL titles to his name, he is also the most decorated Brazilian in that regard and also claimed six League Cup titles with City. Another member of Brazil's 2019 Copa America team, he was adored by Pep Guardiola and was named in the 2018/19 PFA PL Team of the Year.
4) Ederson, Man City, 23 Brazil caps
Ederson won the Premier League's Golden Glove three seasons in succession between 2019/20 and 2021/22. Image: sportsphotographer.eu, Bigstock Photo
There really is little to choose between Ederson and Alisson, probably Brazil's greatest two goalkeepers of all time. They are unfortunate to be playing at the same time and, being almost exactly the same age, either would have had more caps were it not for the other. Ederson's distribution of the ball is even better than Alisson's and he possibly makes fewer mistakes too.
Like Fernandinho, he has won the PL five times but will surely add to that tally in the years ahead. Unlike his compatriot, however, he has also landed the Champions League, in 2023, after they both played on the losing side in the final in 2021. At the time of writing, he has 222 PL appearances to his name and could well overtake Willian in the years ahead.
5) Philippe Coutinho, Liverpool, 68 Brazil caps
There are several other players who were in contention to make it onto this list. They include Roberto Firmino, the aforementioned Willian, Arsenal Invincible Gilberto Silva, and Fabinho. But Coutinho gets the nod, not for his overall career as a Brazilian footballer, but for the dizzying heights he hit for Liverpool, in 2016/17 in particular.
Coutinho has scored 21 times for his nation but may just look back on his career and wish he had never chosen to leave the PL. He played over 200 times for the Reds, scoring 54 goals, and his stunning form towards the end of his time in English football earned him a "dream" move to Barcelona for a fee of £105m (that could have risen to over £140m).
For a spell he was unplayable at Liverpool and a joy to watch, regularly scoring from distance and providing so many chances for those around him. For whatever reason, it didn't quite happen at Barcelona and, via a treble-winning loan to Bayern, he briefly illuminated the PL once again with Villa before his form dropped away. Despite the acrimony around his move to Barca though, Liverpool fans will still remember the 18 incredible months when Coutinho was among the best five players in the world.